Jean-Michel Gaunoux Pommard Les Perrieres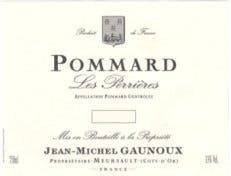 Pommard Les Perrières: Jean-Michel has five acres here planted in 1956. The distinguishing characteristic of his wines is-and I hope you appreciate this term-their regal nature. These are self-assured wines, without need of flash or pizzazz (you won't find big extractions, high toast oak, or the like here). They know themselves and are solidly built, pure, long, very mineral, and age-worthy.
This is a vintage item, but we do not track the vintage in inventory. The information shown describes a recent vintage of this item, but may not describe the vintage you will receive. If you require a specific vintage of this item, please contact us to inquire about availability.